About
Erin Friedman is an abstract artist based just outside of Washington, DC, in Bethesda, Maryland. She has always been captivated by the experience and process of creating. She graduated from the University of Maryland with a BFA in painting and a concentration in design. Gradually, she refined her process and found her niche in abstract painting. 
Her paintings are created by pouring mixed acrylic onto a canvas and then building layers with paint using her palette knife. She makes marks, alters ideas, adds layers, and changes directions. Many pieces include marks of charcoal and oil pastel. The final images are free from formal structure and open to interpretation. Each piece is deeply personal, centered around embracing everything she feels and the connection that comes from shared emotions. Erin's past and present show up in her work. These moments themselves are rarely pictured; rather, the accompanying feelings show up in the art, such as brushstrokes and wax pastel markings. Her work is about expressing herself through visual conversation, where the artwork allows the viewers to experience their own reactions. 
Erin's goal is to make people feel deeply when they see her art. Her inspiration comes from moments and reactions to everyday life experiences. Emotions have a great impact on her work and influence her paintings in a variety of ways. She believes in embracing these feelings and allowing them to become a part of her creative process. 
Erin's work has been exhibited in private collections and galleries, both nationwide and abroad. She has also created many custom commissions for collectors and interior designers.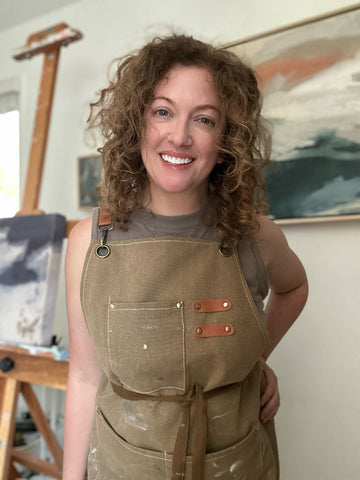 Erin has worked for
The Smithsonian Institution
The Metropolitan Museum of Art
Erin on what drives her art
"Nothing inspires me more than the complexity of emotions. I aim to capture the essence of the human experience in my work. We all experience conflict, change, joy, and sadness. 
I do my best to embrace this process of life and allow these feelings to be revealed throughout my art."